Revolutionizing How Great Bosses Lead, Give Feedback and Empower Employees
Available now at all major book retailers
The book John Doerr called "required reading for anyone with a stake
in empowering people to achieve at the highest level."
Do you believe that what's good for humans is good for business? Connect with a community of people leaders around the globe working together to do just that.
It's time to make performance management work
We've moved on from antiquated tools like typewriters or checkbooks, but bosses still rely on the same annual performance review process to manage employees the same way they did 70 years ago. It fails our modern hybrid workplaces, and it doesn't improve performance, especially for today's millennial and Gen-Z workforce. It succeeds only in lowering employee engagement, undermining trust in management, decreasing transparency, and increasing turnover. There must be a way to make work better for all of us.
Buy the book!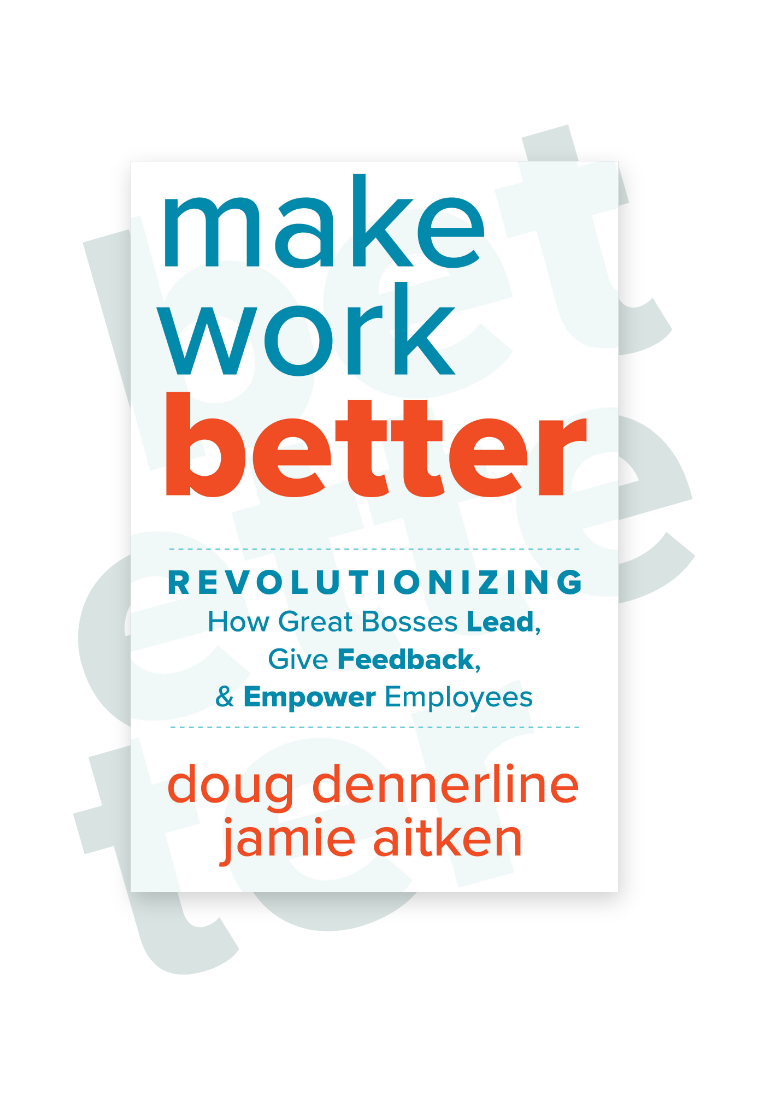 2-20 books
Best for companies that have just one special client or a gift to yourself.

$30/book
21-50

books
Best for small companies that want to buy books for internal teams, clients, or conferences
$25.50/book (15% off)
50-200

books
Best for large companies that want to buy books for internal teams, clients, and conferences.
$22.50/book (25% off)
201+

books
Best for large companies that want to buy books for internal teams, clients, and conferences.
$19.50/book (30% off)
Chapter 1: How We Manage Performance and Why It Sucks
Chapter 2: Make Work Better with Performance Enablement
Chapter 3: Performance Enablement from the Ground Up
Chapter 4: Putting Performance Enablement into Practice with People Development Plans
Chapter 5: Leading Your Performance Transformation
Chapter 6: Implementing Performance Enablement
Chapter 7: Scaling Your Initiative with Technology
Chapter 9: Compensation
"Make Work Better is a radical manifesto—and blueprint—for operating excel lence in our fast-changing world of work. Packed with practical advice and instructive case studies, Make Work Better is required reading for anyone with a stake in empowering people to achieve at the highest level."
— John Doerr, bestselling author of Measure What Matters
"Make Work Better provides leaders with actionable steps to create a culture of trust, empowering employees at all levels to do their best work. It's a must-read for those seeking to build resilient and agile organizations that can adapt and thrive in today's dynamic landscape."
— Laurie Ruettimann, author and HR consultant
"Doug and Jamie have done a brilliant job making the case for why leading companies need to rethink performance management, and they have provided a roadmap for how to lead a workplace transformation. Don't wait to read this one."
— Eric Yuan, CEO and founder of Zoom
"Make Work Better gives leaders actionable steps to create cultures of trust and empower employees at all levels of an organization to do their best work. It's an essential read in this dynamic moment."
— Gaby Toledano, COO and board member, former chief people officer of Tesla, Electronic Arts, and Siebel Systems
"Doug and Jamie have written the ultimate playbook for C-suite leaders looking to build a high-performance business that puts people at the center. If CEOs and CHROs read one book this year, Make Work Better should be it."
— Jenny Dearborn, award-winning thought leader, speaker, and author on data-driven sales and leadership
To be kept updated about upcoming live events like the EmpowerHR Conference, webinars, and related content, sign up here:
Make Work Better shows HR, leaders, and middle managers the modern path to better employee performance, amplified engagement and company culture, and more empowered people. Readers will learn how to:
Make goals and OKRs more useful, more often for everyone
Eliminate ratings and implement a promotion process that reflects reality and retains employees
Make check-ins more productive at better intervals for managers and reports
Teach everyone to better deliver and receive more effective structured and unstructured feedback
Make recognition count, and create formal development paths for high performers
Use data to make the right people decisions and eliminate bias
Structure your organization to maximize the impact of HR and People Operations
Featuring front-line insights from adopters of the process at Intuit, Vertiv, Pepsico, and other leading organizations, Make Work Better gives readers everything they need to improve their organization from wherever they sit.
It's time to make performance management work
Make Work Better: A Call to Action for HR and Business Leaders to Rethink Performance Management
Make Work Better, With Betterworks' CEO Doug Dennerline and VP of HR Transformation Jamie Aitken
2300: Make Work Better With HR Tech: A Call to Action for HR and Business Leaders
6 Signs It's Time for CEOs to Replace Their CHROs
'The Great Mismatch': Employers Firmer On Return-To-Office Policies In 2023
Best Leadership Teams 2022
Betterworks Wins Silver for Best Advance in Performance Management Technology from Brandon Hall Group
Betterworks Wins 2 Comparably Best Places to Work Awards for Best Company Culture and CEO
Quiet quitting: 9 IT leaders weigh in
Evolving Performance Management for a Better Workforce With Betterworks' Doug Dennerline And Jamie Aitken
HR In The Boardroom: Doug Dennerline and Jamie Aitken of Betterworks On Why And How HR Should Help Drive Company Decisions
7 Questions CHROs Should Ask Themselves About Their Role
VP of HR Transformation: 'It's the most exciting time in my career'
10 Ways Technology Can Improve Employee Retention
What advice would you give to a new HR professional?
Betterworks Announces New Vice President, HR Transformation
What Digital Transformation Leadership Looks Like For HR
How to Recognize Employees the Right Way in Today's Workplace
Evolving Performance Management for a Better Workforce With Betterworks' Doug Dennerline And Jamie Aitken
HR In The Boardroom: Doug Dennerline and Jamie Aitken of Betterworks On Why And How HR Should Help Drive Company Decisions